Knowledge Base Article
PSMA PET Imaging for Prostate Cancer
NOTE: All in-article links open in a new tab.
PSMA PET Imaging for Prostate Cancer
Published on
Tuesday, September 19, 2023
September is Prostate Cancer Awareness Month. Prostate cancer is the second leading cause of male cancer-related death in the U.S.[1] According to the American Cancer Society, it is estimated that in 2023 there will be 288,300 new cases of prostate cancer and 34,700 prostate-cancer related deaths in the U.S.[2]
Historically, there have been limited options in managing patients with advanced prostate cancer. However, in the last several years, we have seen remarkable progress in the development of new diagnostic and therapeutic tools. One of these, PSMA PET imaging for prostate cancer, is a particularly exciting development and is the focus of this article. Medical oncologist Michael Morris from Memorial Sloan Kettering Cancer Center calls this new imaging technology "the biggest advance in prostate cancer detection since the PSA test was developed in the 1980s."[3]
PSMA PET Imaging: A New Diagnostic Tool
Prostate-Specific Membrane Antigen, or PSMA, is a protein that is present at a higher level in prostate cancer cells, and in addition, is often found on the surface of prostate cells.[4] These characteristics of PSMA make it a good target for imaging prostate cancer that might have escaped from the prostate and traveled to other parts of the body. PSMA should not be confused with Prostate-Specific Antigen, or PSA, which is a protein produced by the prostate.[5] The PSA test measures the level of PSA in the blood. An elevated PSA in the blood can be an indication of prostate cancer, although it can be due to other factors.
Imaging for advanced prostate cancer has been problematic for many years, with men often having to undergo a conventional CT scan and a bone scan to see if there is evidence of metastatic disease. However, according to the National Cancer Institute, both of these conventional imaging technologies have limitations since "neither is particularly good at finding individual prostate cancer cells, and thus can miss very small tumors."[6] PSMA PET imaging promises to improve the sensitivity of detecting prostate cancer metastases compared to conventional imaging approaches, and thereby better inform the treatment and management of patients with advanced disease.[7]
Clinical trials have shown some promising results for this new imaging technology. For example:
In the CONDOR trial, a total of 208 men were enrolled in the study. The men had a rising PSA after surgery or radiotherapy. The study evaluated the radiotracer 18F-DCFPyL and its ability to detect prostate cancer in these men when performing a PET/CT. The trial demonstrated that the radiotracer correctly localized disease in approximately 85% of men with prostate cancer biochemical recurrence, all of whom had uninformative conventional imaging.[8]
In another trial, 276 prostate cancer patients were enrolled to evaluate the clinical impact of 68Ga-prostate-specific membrane antigen positron emission tomography/computed tomography on the planned management of prostate cancer patients with biochemical recurrence after surgery.[9] It was found that the use of this imaging technology allowed clinicians to radically change the intended treatment approach before imaging evaluation, in roughly two out three individuals.
FDA Approvals
During the last several years, the FDA has approved several radioactive tracers for use in PSMA PET imaging. For example:
On December 1, 2020, the FDA approved the radioactive tracer Gallium (Ga) 68 PSMA-11 for use in PET imaging of patients with suspected prostate cancer metastasis who are potentially curable by surgery or radiation therapy.[10] The tracer can also be used for patients with suspected prostate cancer recurrence based on elevated serum PSA levels.
On May 26, 2021, the FDA approved a second PSMA-targeted PET imaging drug, Pylarify (piflufolastat F 18), for the same prostate cancer imaging indications as Ga 68 PSMA-11.[11] The FDA noted that with this approval, certain men with prostate cancer will have greater access to PSMA-targeted PET imaging that can aid health care providers in assessing prostate cancer.
Additional FDA approvals have followed for Illuccix (gallium Ga 68 gozetotide) (12/17/2021)[12], Locametz (gallium Ga 68 gozetotide) (3/23/2022)[13], and Posluma (flotufolastat F 18) (5/25/2023)[14].
Once a PSMA-targeted radioactive tracer is injected into the patient, the tracer travels throughout the body and attaches to PSMA; the cells thus flagged will then "light up" when a PET scan is performed.[15]
PSMA Tracers by the Numbers
To measure the growth in utilization of this new imaging technology, RealTime Medicare Data constructed a Tableau visualization using its nationwide Medicare Fee-for-Service (FFS) paid claims database. Here is some key trending information from that visualization: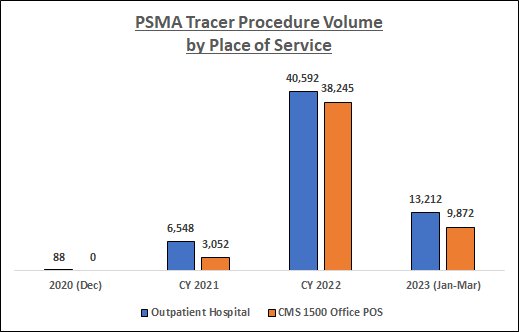 Data Source: RealTime Medicare Data, LLC. Time period: 12/1/2020-3/31/2023. Geography: all 50 states and D.C. CMS 1500 Office POS and Outpatient Hospital Medicare Fee-for-Service. The following HCPCS Codes were included in the data queries: A9593-GALLIUM GA-68 PSMA-11 DIAGNOSTIC UCSF 1 MCI, A9594-GALLIUM GA-68 PSMA-11 DIAGNOSTIC UCLA 1 MCI, A9595-PIFLUFOLASTAT F-18 DIAGNOSTIC 1 MCI, A9596-GALLIUM GA-68 GOZETOTIDE DIAG ILLUCCIX 1 MCI, A9597-POSITRON EMISSION TOMOGRAPHY RP DX TUMOR ID NOC, and A9800-GALLIUM GA-68 GOZETOTIDE DIAGNOSTIC 1 MCI. PDx's not related to prostate cancer, and CPT Modifier 26 (relating to professional fees), were filtered from the data.
As the above chart indicates, PSMA tracer utilization among the Medicare FFS population has increased substantially over the study period, especially during CY 2022. In addition, there has been a shift in the place of service where these procedures are being performed; indeed, by 2022 procedure volume in the Office setting was fast approaching that in the Outpatient Hospital setting.
From Imaging to Targeted Therapy
In addition to being a target for prostate cancer imaging, can PSMA be a target for prostate cancer therapy? In 2022, the FDA weighed into this question with these exciting developments:
On March 23, 2022, the FDA approved Pluvicto (lutetium Lu 177 vipivotide tetraxetan) for the treatment of adult patients with PSMA-positive metastatic castration-resistant prostate cancer who have been treated with androgen receptor pathway inhibition and taxane-based chemotherapy.[16]
On the same day, the FDA approved the radioactive tracer Locametz (gallium Ga 68 gozetotide) for positron emission tomography (PET) of PSMA-positive lesions, including the selection of patients with metastatic prostate cancer for whom lutetium Lu 177 vipivotide tetraxetan PSMA-directed therapy is indicated.[17] The FDA noted that Locametz is the first radioactive tracer approved for patient selection in the use of a radioligand therapeutic agent.
Pluvicto acts by binding to PSMA; a radioactive particle then kills the cancer cells.[18] In a clinical trial leading to the FDA approval, the trial demonstrated a statistically significant improvement in the primary endpoints of overall survival and radiographic progression-free survival.[19]
Questions remain as to who might be able to receive the new therapy drug beyond those who have already been treated with chemotherapy, whether it will benefit patients during earlier stages of prostate cancer, and whether its effectiveness will be improved if combined with other therapies.[20]
---
Disclaimer: This article does not provide medical advice. It is intended for general informational purposes only. It is not a substitute for professional medical advice, diagnosis, or treatment. Always seek the advice of your physician or other qualified health provider with any questions you may have regarding a medical condition. Never disregard professional medical advice or delay in seeking it because of something you have read in this article.
Article Author: Curtis Spraitzar, A.B., M.P.P.M., J.D.

Curtis Spraitzar, A.B., M.P.P.M., J.D., A.B., M.P.P.M., J.D., is Director of Research and Analysis at RealTime Medicare Data, LLC. At RTMD, Curtis provides Medicare research of interest to the public and seeks to develop relationships and opportunities with leading academic institutions where RTMD's vast data resources and Medicare expertise could serve an important educational or research purpose. In addition, he assists with strategic planning for the company, acts as a liaison with outside counsel, helps advance the company's data visualization and digital marketing efforts, and works collaboratively with all business functions to support operations. In his spare time, he assists the Urology Health Foundation, a 501(c)(3) non-profit organization, with its prostate cancer screening and public education programs in the underserved areas of Alabama.
This material was compiled to share information.  MMP, Inc. is not offering legal advice. Every reasonable effort has been taken to ensure the information is accurate and useful.
Yes! Help me improve my Medicare FFS business.
Please, no soliciting.
Thank you! Someone will contact you soon.
Oops! Something went wrong while submitting the form.
Thank you for subscribing!
Oops! Something went wrong while submitting the form.
We are an environmentally conscious company, dedicated to living "green" both at work and as individuals.
1900 20th Ave S, Ste 220
     Birmingham, AL 35209
Making Healthcare 
make sense